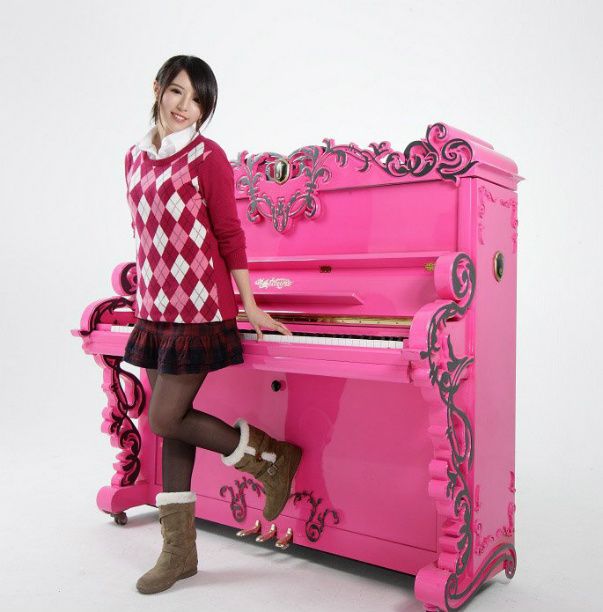 My interest for learning piano initially began after watching Jay Chou's "Secret" back in 2007. I was quite impressed by Jay's piano skills seen in the movie especially the 4 hand piano duet. The piano battle between Jay and Yuhao really captivated me as well. This was the moment when I told myself that I wanted to play like Jay someday. Here is the complete battle scene from "Secret":

My dad used to play a bit of the piano back in the days but now he forgot everything he had learned. I'm glad he still owned a lot of piano books and piano scores purchased like 20 years ago. Thus, to put the books to good use, I tried learning it by myself. To start off, I needed a piano. My dad owns a brown piano but it still needs to be tuned up after sitting in the cold for all those years. I heard that beginners are suggested to start off with an electronic piano before moving on to the "real" piano. So I went to Target to buy an electronic piano and immediately got started on my lessons. However, along the way, everything became complicated and I eventually gave up because I knew I wasn't playing the piano correctly so there wasn't any point in continuing. I felt like I needed a piano instructor to teach me the correct way of playing but my dad did not approve of enrolling me in piano classes at that time because he didn't think I really needed it.
After giving up on self taught piano lessons back in 2007, I thought I was never going to touch the piano again until my dad finally approves of enrolling me in piano classes in the summer of 2012 (recently)!! I'm glad I encountered this musician at the bus stop 2 months ago who really motivated me to play the piano. This person plays both the piano and guitar and performs locally in bars/pubs. When I asked if learning the piano is really complicated, this person responded by saying, "Piano is based on timing". After hearing those words, I posted it on my Facebook and when my dad saw what I wrote, he responded on FB by saying, "There's a piano store at Great Mall that teaches piano". I was speechless when I saw my dad's response.
After searching for the correct piano instructor, I was finally enrolled! I have already attended 4 classes and I'm loving it! The more I practiced, the more I'm falling in love with the piano. I cannot wait until I know how to play decently so I can be able to play Jay's music and feel much more closer to him! Jia you, Laura! :D
Now, off to practice!