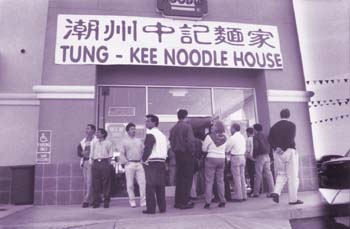 I grew up eating TK (Tung Kee) Noodle with my family. It brings back childhood memories of when my family and I went to TK Noodle together for dinner every weekend. I think TK Noodle is a great place to spend time and build relationships with your family. When I was little, I never really enjoyed their food because I was used to eating American food such as Mc Donald's and Little Caesars. It was during college when I started to develop a liking for TK Noodle. I guess it's true that people's tastes change over time because I realized that as I grew older, I learn to appreciate and like the food I used to hate.
During college, my dad would pick me up from school and take me to TK Noodle once a week. TK Noodle offers a variety of food such as wonton noodle soup, chow mein, chow fun, curry noodle soup, taro flour cake but my personal favorite out of them all is chow fun. Chow Fun has everything that I need. It's also worth the price because it's abundant in meat, vegetables, and shrimp. The funny thing is that my family and I would always order the same meal. My dad would always go with #1, the original noodle soup; my sister always order #6, the combination noodle soup; as for me, I would always order Chow Fun.
My dad is a big fan of TK noodle because he also grew up eating it. He told me that back in his hometown, people with stalls used to serve noodles with the same flavor as the ones at TK Noodle. It's interesting that this flavor still manage to exist as of today. I always wondered who the original creator of this soup is to have made it famous. The original TK Noodle used to be located in Downtown, San Jose; after it closed down, other TK noodle franchises opened across the Bay Area. The new TK chain is exactly similar to the old one with the same dish, same taste, and same service.
I thought I will never get tired of the food until recently, I started to get sick of it. Although I'm tired of TK Noodle at the moment, it will still be ranked #1 on my list of favorite restaurants.